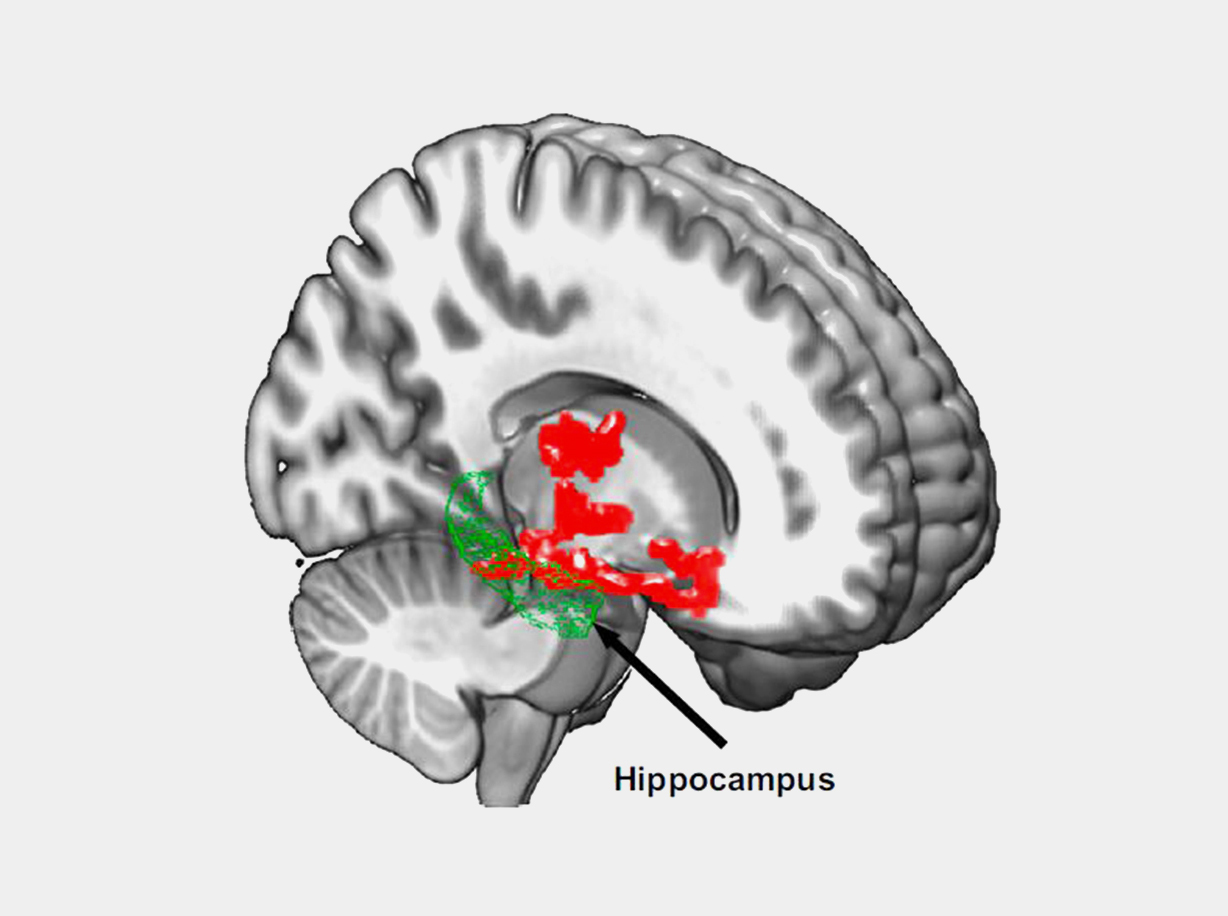 Significance
There has been an emerging interest in sleep and its association with β-amyloid burden as a risk factor for Alzheimer's disease. Despite the evidence that acute sleep deprivation elevates β-amyloid levels in mouse interstitial fluid and in human cerebrospinal fluid, not much is known about the impact of sleep deprivation on β-amyloid burden in the human brain. Using positron emission tomography, here we show that acute sleep deprivation impacts β-amyloid burden in brain regions that have been implicated in Alzheimer's disease. Our observations provide preliminary evidence for the negative effect of sleep deprivation on β-amyloid burden in the human brain.
---
Abstract
The effects of acute sleep deprivation on β-amyloid (Aβ) clearance in the human brain have not been documented. Here we used PET and 18F-florbetaben to measure brain Aβ burden (ABB) in 20 healthy controls tested after a night of rested sleep (baseline) and after a night of sleep deprivation. We show that one night of sleep deprivation, relative to baseline, resulted in a significant increase in Aβ burden in the right hippocampus and thalamus. These increases were associated with mood worsening following sleep deprivation, but were not related to the genetic risk (APOE genotype) for Alzheimer's disease. Additionally, baseline ABB in a range of subcortical regions and the precuneus was inversely associated with reported night sleep hours. APOE genotyping was also linked to subcortical ABB, suggesting that different Alzheimer's disease risk factors might independently affect ABB in nearby brain regions. In summary, our findings show adverse effects of one-night sleep deprivation on brain ABB and expand on prior findings of higher Aβ accumulation with chronic less sleep.
---
Beta-amyloid (Aβ) is present in the brain's interstitial fluid (ISF) and is considered a metabolic "waste product" (1). Mechanisms by which Aβ is cleared from the brain are not completely understood (2), although there is evidence that sleep plays an important role in Aβ clearance (3). In rodents, chronic sleep restriction led to increases in ISF Aβ levels (4) and in a Drosophila model of Alzheimer's disease (AD), chronic sleep deprivation (SD) resulted in higher Aβ accumulation (5). In healthy humans, imaging studies have revealed associations between self-reports of less sleep duration or poor sleep quality and higher Aβ burden (ABB) in the brain (6⇓–8), which is a risk factor for AD. This association has been considered bidirectional because increased ABB could also lead to impairments in sleep (9, 10). Notably, increased ABB in the brain has been associated with impairment of brain function (11, 12). Thus, strategies that prevent Aβ accumulation in the brain could promote healthy brain aging and be useful in preventing AD. In this respect, there is increasing evidence that sleep disturbances might contribute to AD, in part by facilitating accumulation of Aβ in the brain (13).
To better characterize ABB dynamics, studies have focused on the effects of sleep patterns on ABB in the CNS. In rodents, it has been shown that Aβ clearance from the brain's ISF predominately occurred during sleep (4), which was ascribed to the glymphatic pathway, operating most efficiently during sleep (3, 14, 15). Clinical studies have also shown that Aβ levels in the cerebrospinal fluid (CSF) are the highest before sleep and the lowest after wakening, while CSF Aβ clearance was counteracted by SD (16). However, there are some inconsistencies between animal models and findings in humans (17), and Aβ increases in human CSF could reflect factors other than ABB increases in the brain itself (18⇓⇓–21). Notably, the effects of acute SD on Aβ clearance in the human brain have not been documented. This observation will be important for understanding the contribution of sleep to Aβ clearance from the brain and the regional specificity of such effects.
Here we evaluated the effects of one-night SD on ABB in healthy controls to investigate whether sleep affects clearance of Aβ from the human brain. For this purpose, we used positron emission tomography (PET) with which it is now possible to measure ABB in the living human brain. There are several validated PET radiotracers for this purpose, including 18F-florbetaben (FBB) (22, 23). It is believed that such radiotracers predominantly bind to insoluble Aβ42 plaques (24⇓⇓–27), but there is recent evidence that they also bind to soluble Aβ42 forms (28). Thus, we reasoned that PET and FBB could be used to detect increases in ABB because of acute SD, directly in the human brain (3). First, we aimed to assess the effect of one-night SD on brain ABB with PET-FBB in healthy controls (n = 20, 22–72 y old, 10 females) (Table S1), and compared the measures to baseline brain ABB captured at the same time of the day but following a night of rested sleep [referred to as rested-wakefulness (RW)]. Second, we aimed to replicate in our sample the previously reported association between sleep history and brain ABB (when measured after RW) (6⇓–8). For our first aim, we hypothesized that one night of SD would increase ABB in the hippocampus, which shows some of the earliest structural and functional changes in AD (29, 30). For our second aim, we hypothesized that history of poor sleep would be associated with higher ABB in the hippocampus, precuneus, and medial prefrontal cortex (6, 8, 31).
---
Results
Acute SD Effects.
To compare the differences in FBB binding [quantified as relative standard uptake value (SUVr) and used as a marker of ABB] (Methods) after acute SD versus that obtained after RW, we used a voxelwise paired t test in statistical parametric mapping (SPM) (Methods). This analysis showed that images obtained after SD compared with those obtained after RW had significantly higher FBB binding (ABB increases) in a right lateralized cluster (Fig. 1A) that comprised hippocampal, parahippocampal, and thalamic regions (Table S2). Of note, the increases in FBB SUVr in this cluster were robust and observed in 19 of 20 participants (Fig. 1B) from RW (mean = 1.35, standard deviation = 0.06) to SD (mean = 1.42, standard deviation = 0.07; a 5% increase, P < 0.0001). To further confirm this finding, we quantified FBB SUVr in an a priori hippocampal region of interest (ROI) (Methods and Fig. 1D) and compared the measures after SD to those after RW. This ROI analysis also showed a significant increase in FBB SUVr in the right hippocampus ROI from RW to SD (P = 0.046, two-tailed, Cohen's d = 0.48) but not in the left hippocampus (P = 0.4). The magnitude of the Aβ changes in the hippocampal cluster varied significantly between subjects (Fig. 1B) (−0.58% to +16.1%). We found that this variability was not associated with gender, age, or apolipoprotein E (APOE)-based odds ratio for AD (ORAD) (Methods) (P > 0.3). Notably, changes in FBB SUVr in the subcortical cluster were significant in both males (P = 0.0008) and females (P = 0.003). In addition, reported sleep hours (SH) and total score (TS) for sleep quality (Pittsburgh Sleep Questionnaire Inventory, PSQI) (Methods) were not associated with these SD-related increases. Thus, the mechanisms accounting for the observed between-subject variability are still unclear. Subjective behavioral assessment revealed that SD negatively impacted mood compared with RW (Methods and Fig. S1). We assessed if the effects of SD on mood were correlated with increases in ABB in the right hippocampal cluster. This analysis showed that mood worsening was negatively associated with changes in FBB SUVr [r (16) = −0.50, P = 0.03] (Fig. 1C) such that participants with larger increases in ABB in the hippocampal cluster (Fig. 1A) had more mood worsening after SD. Because the quantification of ABB using FBB SUVr can be sensitive to blood perfusion effects, we quantified FBB accumulation using measures of binding potential (BPnd), which are less sensitive to blood perfusion effects than SUVr measures. BPnd in the cluster where we observed the SD effect (Methods and Fig. 1A) was also significantly higher in SD relative to RW [t(19) = 3.57, P = 0.002] (Fig. S2A). Moreover, SD-related changes in BPnd were significantly correlated with those observed with FBB SUVr [r(18) = 0.53, P = 0.016] (Fig. S2B), further supporting that SD-related increases in FBB SUVr are not primarily driven by perfusion effects.
Source :
pnas